Outlook 2013 IMAP Unix mail setup (much the same for other Outlook versions)
The instructions works on Outlook 2010, 2013, 2016, 2019,  Outlook 365,  with minor differences.
Enter Outlook.

If its the first time, you may need to enter Mail settings in Settings/ Control Panel and create new Profile before entering Outlook.

Create a new IMAP account :

In File Menu, select Account settings, Account settings…
Click on New… and select Manual setup or additional server types. See below.
Click Next.
Continue to Choose service…
In Choose Service, select POP or IMAP and Next. See below.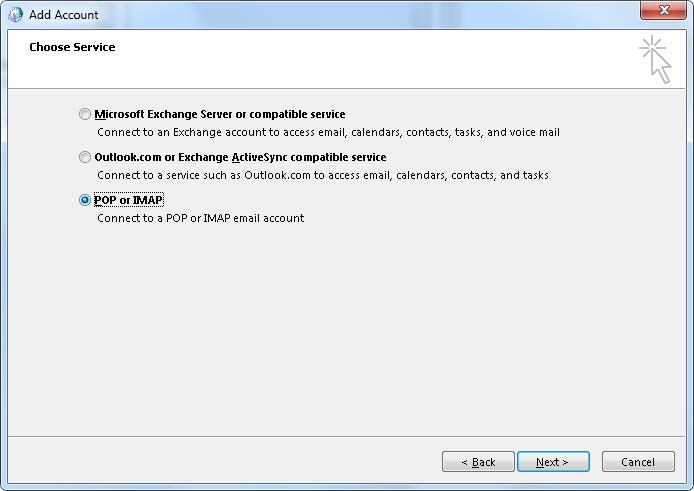 Continue to POP and IMAP Account settings …
In POP and IMAP Account settings, enter (see below):
Email address : Your-Username@cs.technion.ac.il (Use your username at CS)
Account Type: IMAP
Incoming Mail server: imapsg.cs.technion.ac.il (for segel/staff)  OR  imapta.cs.technion.ac.il (for graduate/assistant).
Outgoing Mail server: mailout.cs.technion.ac.il
User Name: Your-Username ( without @cs.technion.ac.il)
Change Mail to keep offline to how long back you want to see mail in folders. default is 1 month.
Click on More Settings.
Continue to More settings…

More settings… In Internet E-mail settings do:
In general tab: Enter your details.
In Outgoing Server tab select (See below):

Select: My outgoing server (SMTP) requires authentication.

Select: Use same settings as my incoming mail server
Continue to Advanced tab…
In Advanced tab
Set ports (see below):
Incoming server (IMAP): 993

Use the following type of encrypted connection : SSL

Outgoing server (SMTP): 465

Use the following type of encrypted connection : SSL
Set    Root folder path: mail
Select Deleted Items as you want.
Click OK to finish setup.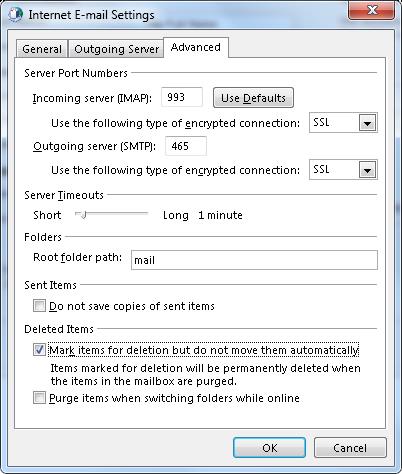 Click Next on Add account to start connection to servers.
You will be asked for password. Enter your Unix CS password.
You should see on the left your account Inbox folder under your username.
Try to send Email to yourself and see if you get this mail. You may need to re-enter your Unix password.
Done.